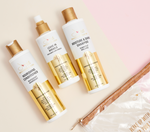 Joyce Giraud Beauty: Experience the Miracle Elixir Collection
The Miracle Elixir Collection - A Comprehensive Range for All Hair Concerns
The Miracle Elixir Collection offers a comprehensive range of hair products designed to address a wide range of hair concerns. Comprising four essential products – shampoo, conditioner, hair serum, and hair mask – this collection harnesses the power of exotic ingredients that work wonders on your hair. Whether you're looking to nourish, repair, or rejuvenate your locks, the Miracle Elixir Collection has got you covered.
Transform Your Hair with the Miracle Elixir Shampoo
Indulge your hair in the gentle and nourishing care of the Miracle Elixir Shampoo. Infused with the goodness of argan oil, aloe vera, and biotin, this shampoo deeply nourishes your hair follicles, resulting in soft, manageable, and shiny locks. Say goodbye to breakage and embrace healthy hair growth with the strengthening properties of this miraculous shampoo.
Experience Luxurious Hydration with the Miracle Elixir Conditioner
Complementing the shampoo, the Miracle Elixir Conditioner delivers luxurious hydration to your hair. Enriched with shea butter, coconut oil, and vitamin E, this conditioner provides intense nourishment to your locks. Tame frizz, detangle knots, and enjoy silky-soft hair as this conditioner works its magic, leaving your strands feeling smooth and revitalized.
Protect and Repair with the Miracle Elixir Hair Serum
For hair in need of extra repair and protection, the Miracle Elixir Hair Serum is your go-to product. Formulated with keratin protein, silk amino acids, and panthenol, this essential serum shields your hair from heat damage and environmental pollutants. Lock in moisture and maintain the health and strength of your hair with this powerful serum.
Rejuvenate with the Miracle Elixir Hair Mask
Give your hair a weekly treat with the Miracle Elixir Hair Mask. This potent blend of natural ingredients, including avocado oil, jojoba oil, and wheat protein, works from the inside out to heal damage, reduce brittleness, and improve hair elasticity. Experience enhanced hair vitality and nourishment as you incorporate this rejuvenating hair mask into your routine.

Joyce Giraud Beauty's Miracle Elixir Collection
Your Dream Hair Care Solution Joyce Giraud Beauty's Miracle Elixir Collection combines the power of nature and science to offer the ultimate solution for all your hair care needs. Cruelty-free, paraben-free, sulfate-free, and safe for colored hair, these products are suitable for everyone, regardless of their hair type or concern. Don't wait any longer – treat your hair to the love and care it deserves by getting your hands on this magical collection.